Bike transport price list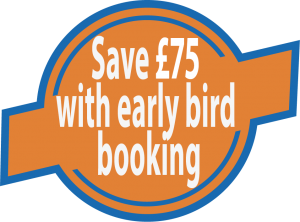 We safely shuttle bikes to a number of triathlons, duathlons, sportives and events across Europe. The costs below contain no hidden extras and come with bike insurance free of charge as standard.
Basic price
– £225 for collections in England and Wales
– £275 for collections in Scotland and Ireland
Additional bikes and groups 
– £10 discount per bike if more then one bike is collected and returned to one central address
Early bird pricing
– £75 off the above pricing for bookings placed and paid before two months before the event
Additional cost events
– Some events carry an additional £25 surcharge if they involve a particularly long drive or more than one ferry crossing. These are indicated with an asterisk (*) in the events listing pages or have a separate price listed.
Additional extras:
Additional kit bags must be pre booked and we will charge:
£10 for bags up to 5kg
£20 for bags between 5kg and 10kg
The maximum bag weight is 10kg. Bags must be labelled with your name.
In general we allow for bikes to be dropped off a week before we depart and to be collected the week after we return. If your bike is with us (without prior arrangement) for any longer than this, there will be an additional storage charge of £5 per day per bike.
Subject to the individual driver, we may be able to transport bikes and people to the start of the event or to set up transition if it's a triathlon the day before the event. This must be arranged in advance and the price will depend on the amount of people/bikes and the distance travelled.