Adam Kelly – Ireland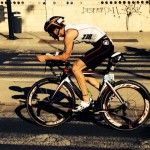 Adam, has been involved with bikes since his BMXing days. Through cycle racing, mountain biking, cyclocross, Olympic Triathlon, Ironman Triathlon and Xterra Triathlon, you could say he is a biking slut and has ridden them all, however he has been racing for over 23 years, so it's been an even spread over a long career. His latest obsession is the restoration of vintage racing bikes!
Adam owns a gym, where he works as a lifecoach and personal trainer. He is fitness and triathlon editor for Outsider Magazine, which is Irelands leading outdoor magazine. He is also a Triathlon and cycle racing coach, who works with Triathlon Ireland's Junior Academy Athletes.
Adam is delighted to join to Bikebox Online team, as the company provides such a great solution, to such an age old problem – International bike transport. Many people simply can't afford the space allocated to owning a bike box, which may only be used, once or twice per year. The problem also with buying one, Adam finds, is not only the cost of a decent one, but the fact, that everybody else wants to borrow it too. Every time it gets used, it comes back with more dents, and more pieces missing off it – I suppose, it's better than a dented bike of course! Ireland has no landbridge, and is water locked so we have to fly everywhere. That's why we invented Ryanair of course!