Hannah Mann – Portishead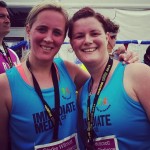 Sister to Sam Gardner, Hannah has grown up around wheels, chains and oil and has supported Sam throughout his career from the safety of the water station!
Believing that 3 disciplines was for wimps, modern Pentathlon was Hannah's sport of choice with swimming being her best phase but running is where you'll probably see her now.
Jon is an adrenaline junkie and thrives through his passion for surfing, golf and mountain biking. Jon can often be spotted blasting round the local trails so say hello if you speed passed!