Russell Cutts – Sheffield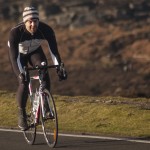 Relatively new to cycling having only been cycling seriously for 10 years it was commuting to work that really got Russell going and now he owns a fleet of bikes and has been all over the country cycling. Russell started out on a Halfords Carrera bike which got me from A to B but now prefers his Specialized Langster to get him around.
When you are cycling you experience the environment much more closely, Russell experienced 4 seasons in one day riding on the Isle of Skye, traversed peat bogs in Wales and discovered how hilly Cornwall really is!
Russell opened Russell's Bicycle Shed at Sheffield Railway Station in August 2014 and has seen things really take off, he provides all types of service for cyclists from bike sales, repair and maintenance to hire of bikes and bikeboxes.