Roof Bar Integration upgrade
Upgrade your Velovault2 to be roof rack compatible.
Make your Velovault2 bike box roof box compatible.
By adding this option to your Velovault2 you will ensure your box is equipped to attach to the majority of roof bars with T-track slots. The integrated aluminium rods and sliders will be bolted to your bikebox which in turn will fix to our unique aluminium roof bar brackets. The brackets include quick release skewers, secured by a pin to prevent movement in transit, this means that the box can be removed from the car without you having to open the bikebox or mess with your bike.
Make sure you add this option to your cart to allow your Velovault2 bikebox  to attach to your roof bars, we will attach the t-bars for you to save you time. The system can be retro fitted but it will require the user to do some drilling and fix the t-bars to your box using the nuts & bolts provided.
Safety:
The system has undergoing rigorous testing at Millbrook testing facility in the UK to ensure for its performance and safety.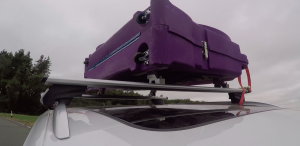 Testing:
The system was tested to the below specification with index markings applied to bike box fitting system, to illustrate any movement. We also fitted 2x GoPro cameras to the vehicle, one forward facing and one rearward facing, in order to film any movements of the bike box during testing.
High Speed Circuit, at motorway speeds.
Mile Straight, incorporating full rate acceleration and braking to/from 60 mph.
Outer Handling Circuit, with Moderate cornering loads.
Hill Route, with moderate cornering loads.
Random Waves, both in and out of phase.
Belgian Pavé.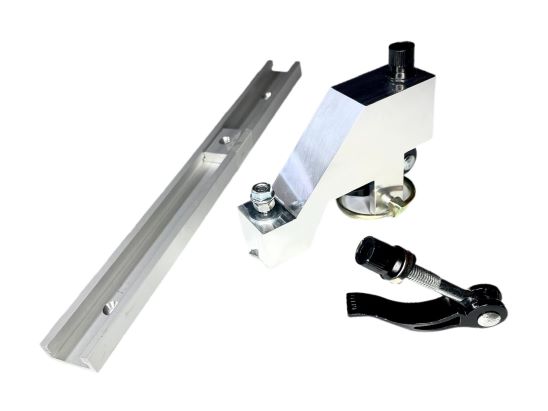 Conclusions:
'The vehicle was driven over each of the surfaces multiple times, totalling 4 hours of driving. After each individual test run, the index markings were visually checked. No movement occurred throughout the test period.'
The official report is available to view on request to kerr@bikeboxonline.com
See our video here of the actual testing
Only logged in customers who have purchased this product may leave a review.