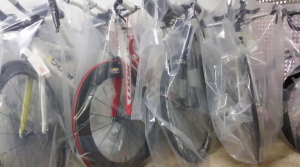 Ironman or challenge triathlon bike transport 2019
An Ironman or Challenge Triathlon is one of a series of long-distance triathlon races organised by the World Triathlon Corporation (WTC) consisting of a 2.4-mile (3.86 km) swim, a 112-mile (180.25 km) bicycle ride and a marathon 26.2-mile (42.2 km) run, raced in that order and without a break. It is widely considered one of the most difficult one-day sporting events in the world.
When you're preparing for an event like this, you need as few distractions as possible – which is why you should consider using our safe and economical bike transport service. We safely deliver competitors bikes to a range of Ironman and Challenge Triathlon events across Europe. If you're competing in any of the following events and would like to get a quote for our bike transport service, don't hesitate to get in touch.
IRONMAN EVENTS 2019
| | | | | | | | | | | | | | | | | | |
| --- | --- | --- | --- | --- | --- | --- | --- | --- | --- | --- | --- | --- | --- | --- | --- | --- | --- |
| Triathlon | Day/Date | City | Country | Distance | | Aug | Sept | Oct | Nov | Dec | Jan | Feb | Mar | Apr | May | June | July |
| | | | | | | Price | Price | Price | Price | Price | Price | Price | Price | Price | Price | Price | Price |
| Ironman | Sunday 30th June | Nice | France | 140.6 | | £180 | £180 | £180 | £180 | £180 | £192 | £192 | £192 | £216 | £216 | £240 | £240 |
| Ironman | Sunday 30th June | Frankfurt | Germany | 140.6 | | £180 | £180 | £180 | £180 | £180 | £192 | £192 | £192 | £216 | £216 | £240 | £240 |
| Ironman | Sunday 7th July | Klagenfurt | Austria | 140.6 | | £180 | £180 | £180 | £180 | £180 | £192 | £192 | £192 | £216 | £216 | £240 | £240 |
| Ironman | Sunday 28th July | Hamburg | Germany | 140.6 | | £180 | £180 | £180 | £180 | £180 | £192 | £192 | £192 | £216 | £216 | £240 | £240 |
| | | | | | | | | | | | | | | | | | | |
| --- | --- | --- | --- | --- | --- | --- | --- | --- | --- | --- | --- | --- | --- | --- | --- | --- | --- | --- |
| Triathlon | Day/Date | City | Country | Distance | | Aug | Sept | Oct | Nov | Dec | Jan | Feb | Mar | Apr | May | June | July | Aug |
| | | | | | | Price | Price | Price | Price | Price | Price | Price | Price | Price | Price | Price | Price | Price |
| Ironman | 25th August | Vichy | France | 140.6 | | £180 | £180 | £180 | £180 | £180 | £180 | £192 | £192 | £192 | £216 | £216 | £240 | £240 |
| | | | | | | | | | | | | | | | | | | | | |
| --- | --- | --- | --- | --- | --- | --- | --- | --- | --- | --- | --- | --- | --- | --- | --- | --- | --- | --- | --- | --- |
| Triathlon | Day/Date | City | Country | Distance | | Aug | Sept | Oct | Nov | Dec | Jan | Feb | Mar | Apr | May | June | July | Aug | Sept | Oct |
| | | | | | | Price | Price | Price | Price | Price | Price | Price | Price | Price | Price | Price | Price | Price | Price | Price |
| Ironman | September | Cervia | Italy | 140.6 | | £180 | £180 | £180 | £180 | £180 | £180 | £180 | £180 | £192 | £192 | £192 | £216 | £216 | £240 | £240 |
| Ironman | October | Barcelona | Spain | 140.6 | | £180 | £180 | £180 | £180 | £180 | £180 | £180 | £180 | £192 | £192 | £192 | £216 | £216 | £240 | £240 |
CHALLENGE EVENTS 2019
| | | | | | | | | | | | | | | | | | |
| --- | --- | --- | --- | --- | --- | --- | --- | --- | --- | --- | --- | --- | --- | --- | --- | --- | --- |
| Triathlon | Day/Date | City | Country | Distance | | Aug | Sept | Oct | Nov | Dec | Jan | Feb | Mar | Apr | May | June | July |
| | | | | | | Price | Price | Price | Price | Price | Price | Price | Price | Price | Price | Price | Price |
| Challenge | Sunday 7th July | Roth | Germany | 140.6 | | £160 | £160 | £160 | £160 | £160 | £160 | £160 | £160 | £180 | £180 | £200 | £200 |
Kit bags
Kit bags – up to 5kgs £25
Group discounts
10+ people from a single address: £10pp
20+ people from a single address: £15pp