Product Description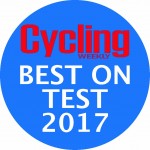 OUT OF STOCK – Velovault-1
The Velovault is our own in house designed box. Utilising 5 years of bike box rental experience and Sam Gardner's experience of competing as an international triathlete  for 10 years, we gained a pretty good idea of which boxes on the market were up to the job and how we thought we could improve on existing designs in various ways.
We are very proud to say that our bike box is British made and we mean proper British made! The Plastic shells are produced near Birmingham, as are the Protex™ catches and the piano hinge, the webbing and foam are made either side of the Peak district, even the weight saving aluminium washers are made in England. Assembly is  carried out in the UK at our factory in Birmingham.
Universal wheel fixings and larger wheel moulding – Velovault bike box is fitted for all conventional wheel sizes, including the new 650b and 29er mountain bike wheels. No need to fully deflate your 29er tyres just to fit in the bike box.
Innovative wheel mount design – two mounting holes mean your big 29er wheels can now fit without the cassette from one wheel rubbing against the 2nd wheel.
Disk Brake rotor recesses – We have also built in protection for disc brake rotors so you no longer have to remove them when travelling.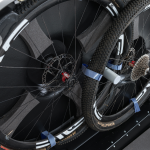 Interlocking Large Diameter central support struts – Designed specifically for the purpose. One strut has a pointed 'Male' end which locates into an opposing 'Female' cone on the other strut providing great crush resistance so an adult can stand on the centre of the box. Best of all, as the struts are integrated into the box, they'll always be in place even if customs open up your box.
Extra length – Our bike box is 50mm longer than our competitors which accommodates the longer wheel bases now found on modern 29ers and downhill bikes. To keep our overall dimensions (Length + Height + Width) the same as our competitors we have lost a few mm of width and height.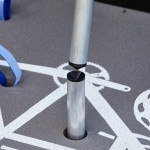 Quality fixings – A Bike box is only as strong as its weakest point. Why spend £400+ on a box to protect your £10,000 bike and accept cheap Chinese catches which don't even have a strength rating, or a box using cheap piano hinge. We only use UK made Protex™ Catchbolts with a strength rating of 400kg per catch. If they're good enough for Formula 1 teams they're good enough for us.
Sensible handle position – By not having our main handle in-line with the seat post and saddle, we can accommodate the full chain-ring to saddle measurement. Put another way, many other boxes position a handle where the saddle would go, adding to the overall dimensions of the box but also reducing the internal space at the most important point.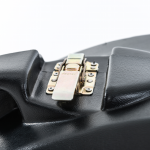 Specifications
Dimensions. Length 116cm, Height tallest 91cm, Width 30cm
Weight. 11.9kg
Reviews
Click the images below to read independent reviews of the Velovault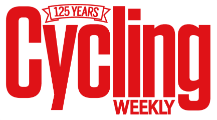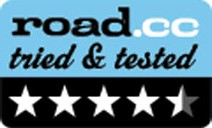 Testimonials
Interested to hear what the pro's think of the VeloVault? Click here to read testimonials from the likes of Cat Morrison and Toby Garbett.
Packing Video